SXSW: HOMAGE TO MISTA D

(mista d)
Okay still recouping from the SXSW trip but I finally got a little time to do my first entry since my return.
I wanted to do an homage to Mista D, my second year in a row, SXSW travel buddy and teacher of the way of the D.
Last year was my first year rolling to SXSW it was the first day of freedom from the cubicle as I had just left my full-time corporate gig. Mista D led the way and I just tagged along for the ride. I fell in love with SXSW as a great place to see a grip of up and coming and established bands and for building contacts.
Mista D is known as the mayor of Hollywood. You can't go anywhere without him knowing someone or should I say without someone coming up to him with soo much love. So at last years SXSW, it carried over to Austin, Texas. I had made a joke that I should keep count with a clicker of all the people that would come up to him. It was our inside joke and would say "click" with each new person.
Fast forward to last week. Um, he brought a real clicker! The clicking began at the airport terminal here at LAX at 10:30am Wednesday, March 14th. The one rule was that there would be no double clicking. I was in charge of the clicker. it was an experiment of sorts.
So we get to the airport and the clicking began. When we got into our seats he already had 7 clicks!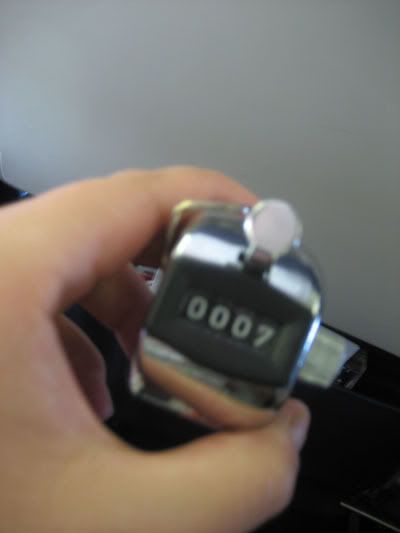 HERE and check out the photos.
Traveling with Mista D is great because he's super organized, on top of it and best of all, drama free. There's soo many daytime party showcases on top of all the night showcases so to not miss a thing and to attempt to squeeze in as many bands as possible Mista D would make a plan for each day. I wish I would have taken a photo of him crunching the times. After a super long exhausting night, he'd break out with his famous folders and spread all his lists out and do work. He looked like he was cramming for a midterm or something. I'd fall asleep and in the morning, the day would be planned out.
If we were at one venue and say Blonde Redhead was at Emo's and the badge line was down the street, Oh no worries Mista D had the secret VIP alley guaranteed entrance pass. On the flight to and from Austin, if you needed a cocktail, oh no worries Mista D had free drink tickets. Yeah for reals no fooling. He's good. Oh yeah and he doesn't drink so he's running on nothing but D.C's that's Diet Cokes!
To watch Mista D operate is a privilege and honor. I keep telling him that I just sit back, observe and learn. He's a rare genuinely nice person in this soul sucking music industry. I'm super fortunate enough to be able to call him my friend.
This has been an homage to Mista D.
* a note to my 5 readers out there, the Hip Hop Memory of the Week will return next week due to being out of town.
thanks and good night